1/19/14 : Huge Success for G1 and our brother Billdo last night !!
"There's not any words that can explain how thankful we are for the family, friends, bikers, and MC community that showed us and our brother Billdo love last night. I'm sure I'm going to miss some people but a huge thank you to Tyler Toliver, Clint Gaskins, and L and B's Sports Bar for putting this event together so quickly.
Jessie Lynne Barber , Jennifer Kreer, Michael Stuart , and Richard Seemslegit Stanley for the raffle items. All the MC and MM's: NamKnights Sons OfTitans Chapter, U.S. Military Vets, Chris Moomaw and the Honorbound MM, Tradesman MC , Vindicators Lemc Virginia, Iron Order, Mohawk Ryderz, Brothers in Christ, Rebel Sons, David Sinland Uzi, and any other club and solo rider that made it out. Thank you to everyone who attended, donated, and helped us spread the word. Congrats to Patrick Bleakney for winning the Harley. A huge thank you to all our G1 Brothers, prospects , hangarounds, and supporters. Nothing but love and respect. If you have pictures please send them our way. Thank you once again."
12/31/13: Happy New Years from G1MC! G1FFG1, SYL 71.
12/30/13 : Brother Billdo was released from the hospital last night. Thank you all for your prayers.
12/20/13 : Great times last night at Romas in King George for the Special Olympics Charity Fundraiser.
12/20/13 : Still praying for our Brother Billdo. Heres a collection of pics and cards that have been sent in. Thank you all for your kindness.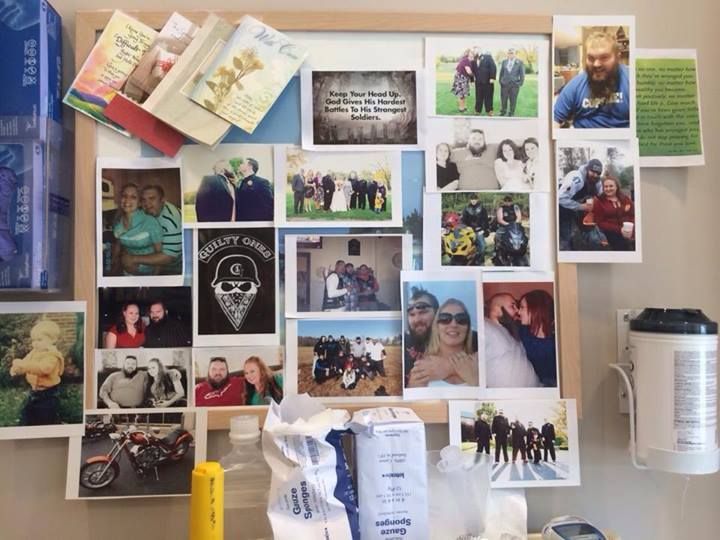 12/9/13: Guilty Ones Motorcycle Club would like to say thank you to all the Clubs & Organizations who attended and donated to the Manassas Miracle this year. There's a ton of people to thank and if we missed you on this list we apologize!
Volunteer Prince Wiliam

Dan Mackey & Mackeys American Pub

Tom McGrath Law Firm

Ambassador Pitbull Rescue

KK's Temptations

HMs Home Management Services

Skinhabitions Tattoo Studio & Handmade Tattoo Parlor

31 & Pampered chef

Sheehy Nissan

Biologics Medical Equipment

Tin Man Sheet Metal

Lee & Associates Real Estate

Lighting By Design

SCE

Wells Fargo

Romas Pizza in King George

Carport Customs

CSI

Vondari Moto

MHKS

Victoria's Secret

Okras

Fast Eddies Auto Body

Devil Tail Designs
Motorcycle Clubs:
Tradesmen

Smokin Curvz

Daybreakers

Mohawk Ryderz

Chain Driven

Adrenaline Riders

Sinland

Pacific Knights

Renegade Pigs
12/9/13: Please say a prayer for one of our Founders Billdo. He is currently in a medically induced coma due to high fever and a pneumonia like sickness. Thoughts and prayers are appreciated!!!
12/3/13: G1MC invades Dawghouse radio once again.
12/3/13 : visiting the bros at handmade tattoo parlor
11/28/2013: Guilty Ones MC Manassas & Richmond Chapters Celebrating Thanksgiving.
11/22/13 : Jaegers 29th Bday. Click on pic to view album.
11/12/13: Some of the greatest dudes you will ever meet DAWGHOUSE RADIO! Interview and pics for promoting the Manassas Miracle.
Updated Flyer:
NON PROFIT INFORMATION::::
11/11/13: Happy Veterans Day
11/10/13 : Happy Birthday Marines!
11/7/13 :
11/5/2013 : Calling all females. Do you think your hot? Well come prove it in the Naughty Elf contest Dec 7th at Mackeys American Pub in Manassas. 1st place walks away $500 (maybe more) 2nd place $300 cash/prizes. 3rd $100 cash/prizes. Come out have a great time with great people. Contact Tim Tatted Up Kennon or your local G1 for more details. Spread the word and share the love. SYL71. G1FFG1
10/31/2013 : Happy Halloween from Guilty Ones Motorcycle Club!
10/29/2013 :Mark your calendars- Dec 7th will be the G1 Christmas Party! "Manassas Miracle" is the name and you will not want to miss this!
10/10/2013 : Dont Miss Out! Hard Times Cafe Monster Ride
10/5/2013 : Tradesmen Fall Poker Run 2013!
http://www.flickr.com/photos/101233007@N05/sets/72157636408382663/
http://www.ipernity.com/doc/tradesmenmc/27070919/in/album/528773
9/18/2013 : Chilis St Judes Charity tonight.
9/13/2013: This shit aint a game. G1MC.
9/13/2013 : Ocean City Bike Week.
9/07/13 : Harry and Household charitty event @ Mackeys.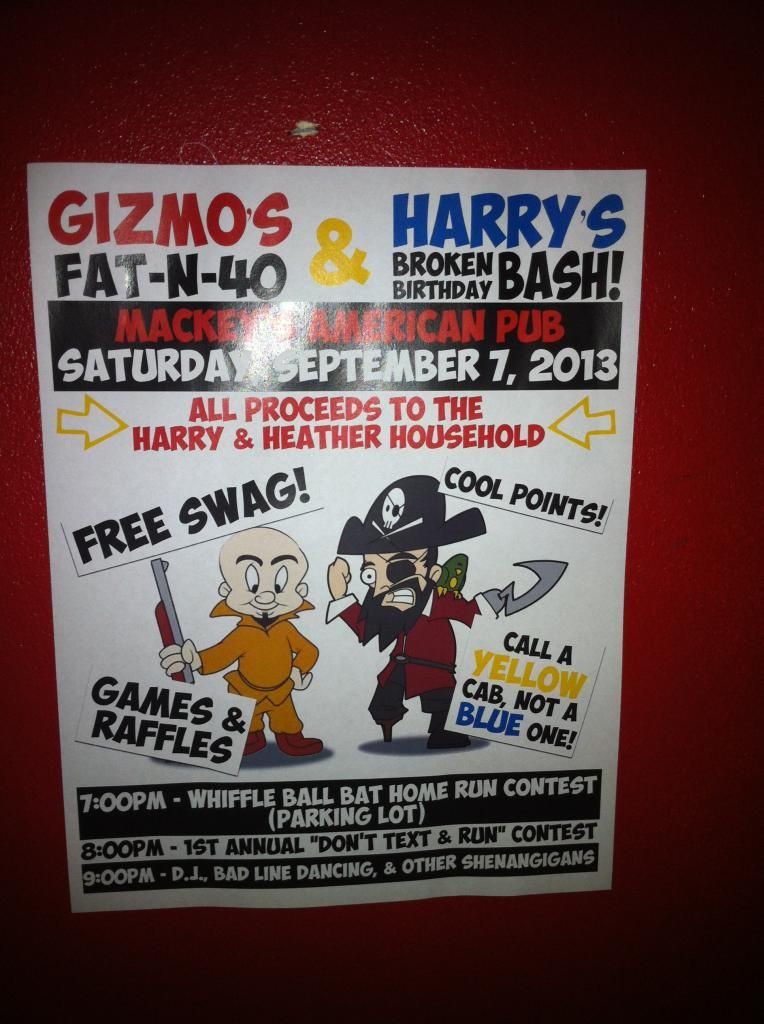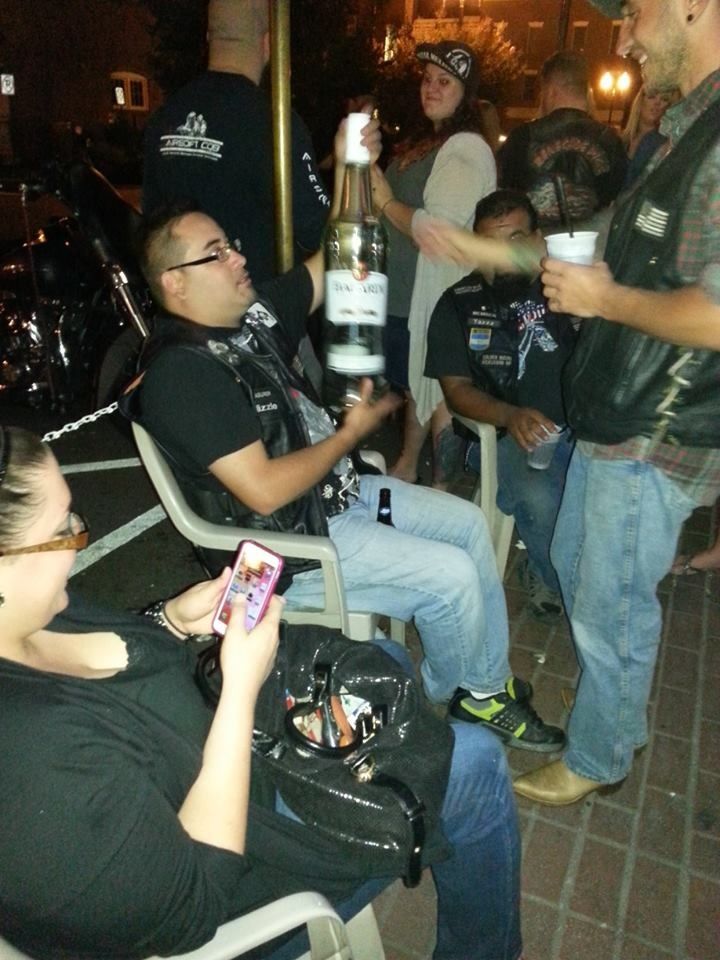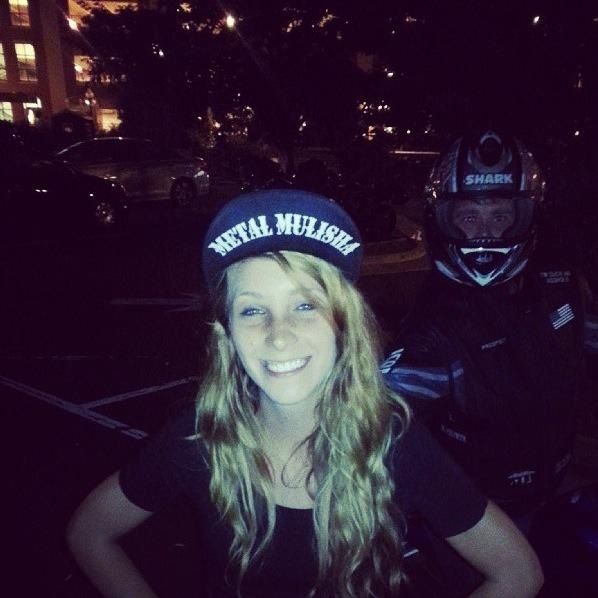 Some G1 basketball
8/26/2013: RIP Ryan MTfosho
9/01/2013 : Riding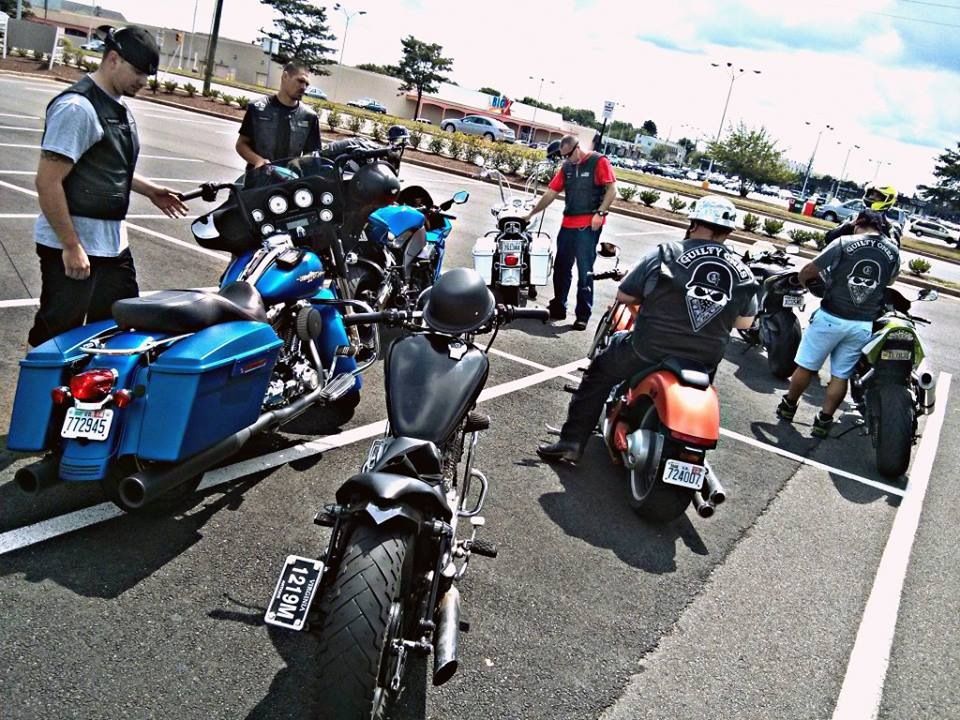 8/29/2013: T-Bone getting charged with "Impending Traffic" lol Ok MCPD... Well played.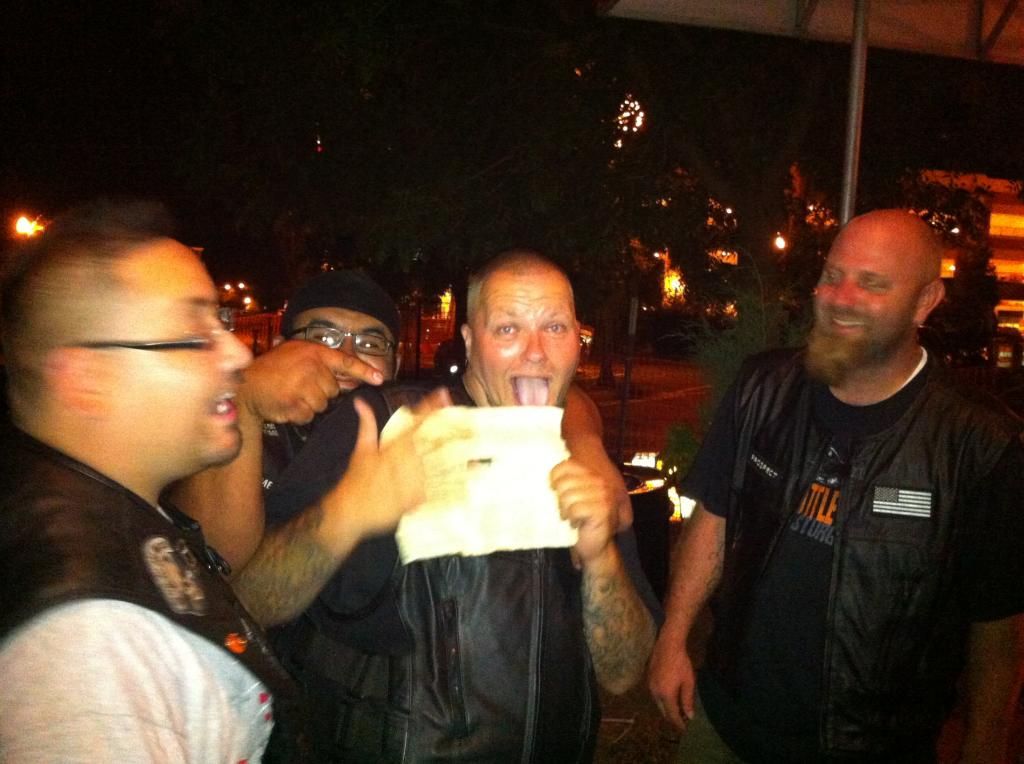 8/24/2013 : LightWeights Cookout.
8/24/2013: Attending JRs Funeral today.
8/22/2013: @ City Tavern.
8/22/2013: cookin out at Hangaround Jasons house. Sockem Boppers are never a good idea!
8/18/2013 : Visiting VP Pitbull at the Hospital. :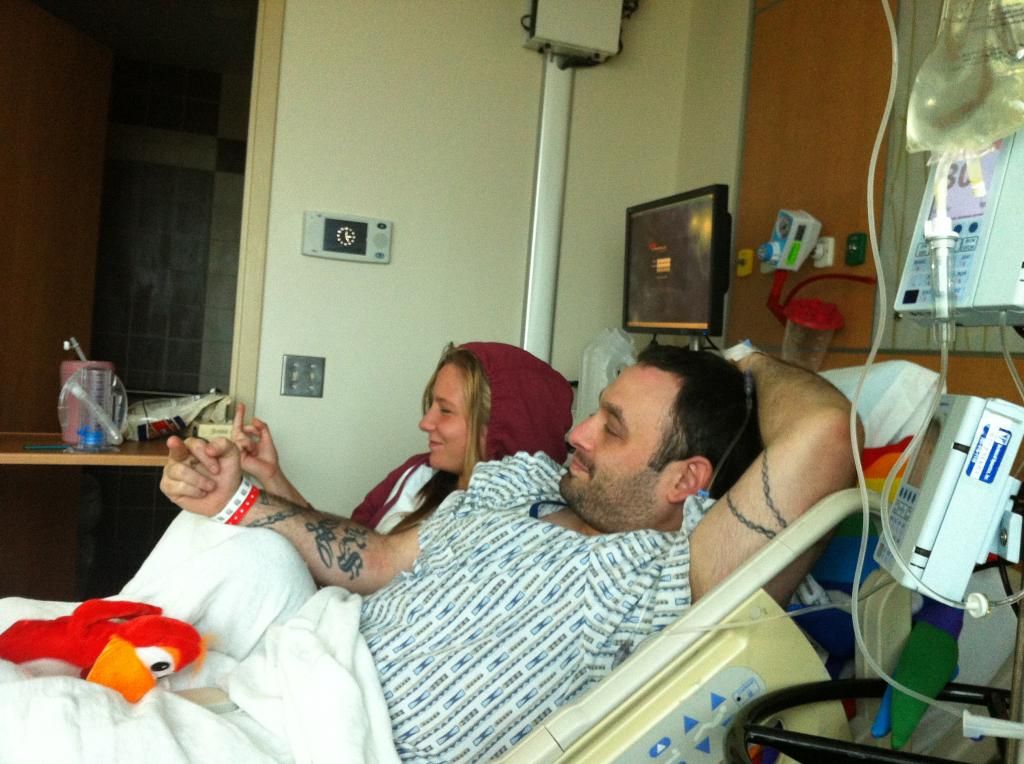 8/16/2013 : Keiths going away party Pics: Dont Ask: http://s780.photobucket.com/user/guiltyonesmc/slideshow/Devious%20leaving%20for%20Japan%20party
8/15/2013:
8/15/2013 : Back to school drive tonight at k2 in woodbridge for Soulja Girlz MC
8/9/2013: True 71 style...I thought cops didnt pull over cruisers..lol.
7/27/2013 : Heading to Front Royal for a " Concrete Jungle Escape"
7/26/2013 : Great Times last night as always. Thanks to everyone who made it out!
7/25/2013 : Mackeys American Pub, Handmade Tattoo Parlor, & Guilty Ones MC are hosting Christmas in July tonight at Mackeys American Pub. Please come by and bring a Toy for Toys for Tots.!
7/19/2013 : Dizzle & Dutchs Birthday @ Carpool & Mackeys. Great Times as always with the G1 Family! You can find pics under pictures
7/14/2013 Hard Times Car, Truck, and Bike Wash today. Come hang out.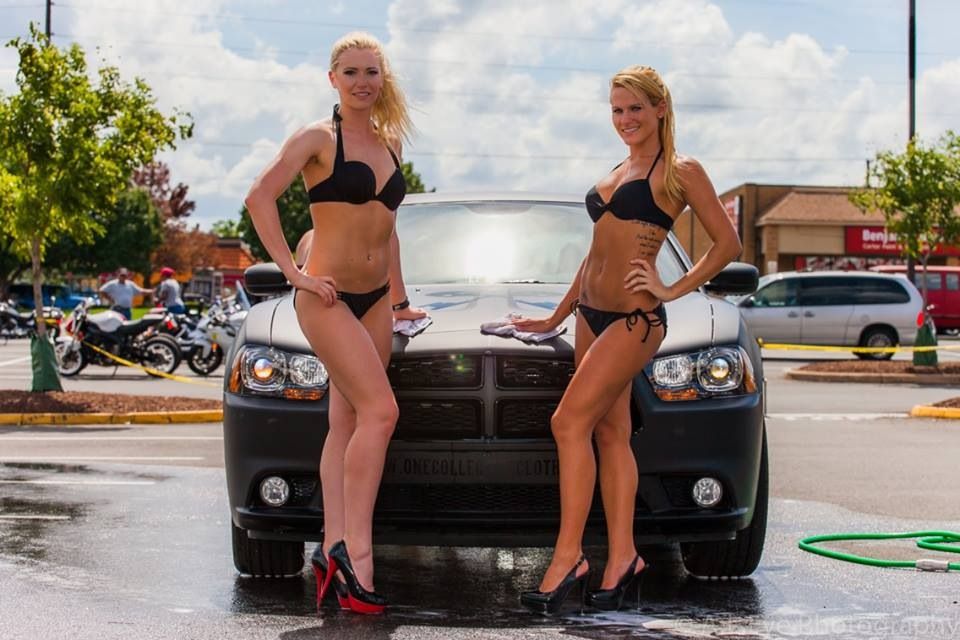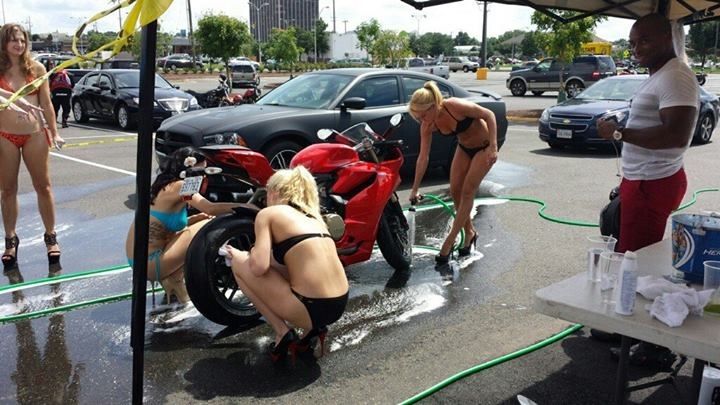 7/01/2013 :
6/22/2013 : Amazing ride and time at Tims 2 today. Pictures can be found at this link: http://s780.photobucket.com/user/guiltyonesmc/slideshow/Tims%202%20Ride%20June%202013?sort=3
6/19/2013: Some footage from rolling thunder.
6/9/2013 : As always. Much Love & Respect to all of those who atended this past weekends events. Lots of money was raised for great charities. None of this would be possible without the help and love from the Motorcycle Community.
6/5/2013:
6/5/2013 : Another 2 Great Charities this weekend.
Friday- Oklahoma Tornado charity at Backyard Grill in Chantilly Va. Starts at 7PM.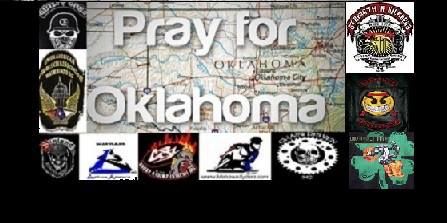 and
Saturday- A bike Wash and Bike Swap at Hard Times Cafe In Manassas Va. Proceeds go to the Virginia Patriot Guard Wounded Warrior Project BBQ at Ft. Belvior
5/22/2013 : Its Almost that time! ROLLING THUNDER 2013. If you havent done it yet. Be sure to do it this year. A great experience.
5/14/2013 : Pictures came threw from the Free WrongTurn Ride (5/3/2013) you can see more by going to pictures and clicking on the Free WrongTurn Album. . Great Job Steve-O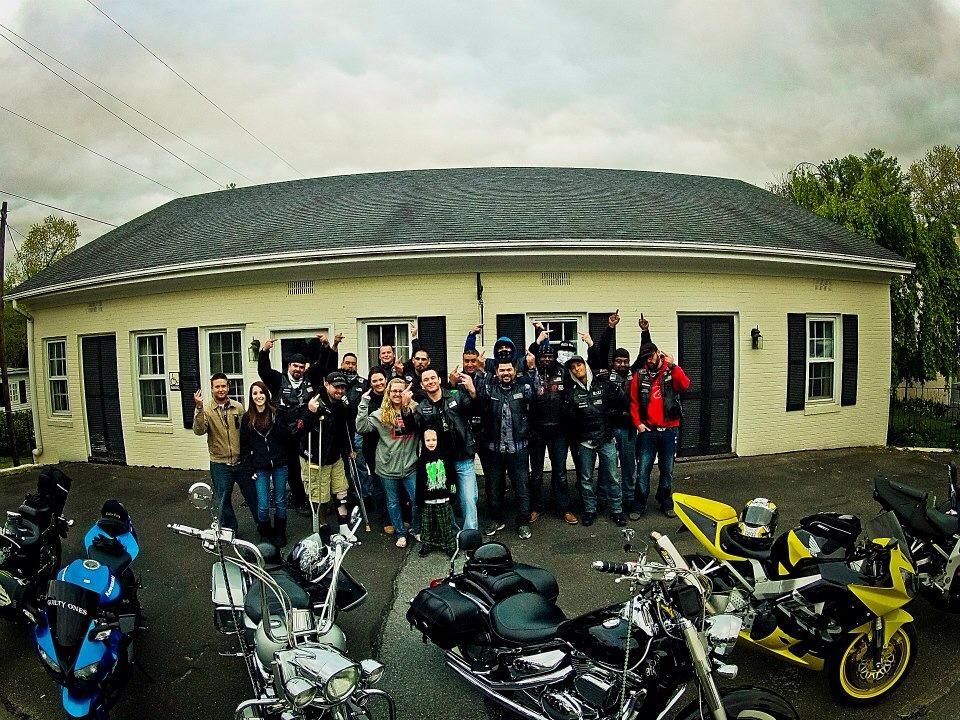 5/5/2013 : Guilty Ones MC & Tradesmen MC
4/23/2013 : Dont miss out on our first bike wash of 2013 @ Hard Times Cafe in Manassas on MAY 5th!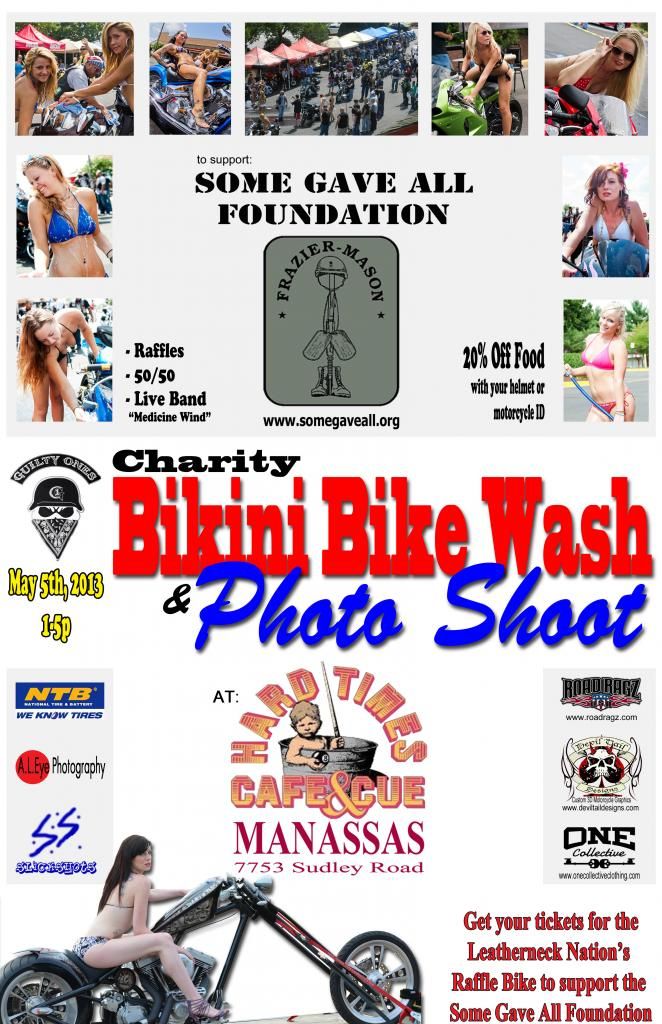 4-20-2013 : Guilty Ones MC had great times on saturday. Started with the Chris Yung Poker Run, then MHKS Open house event, then a club meeting, Mohawk Ryderz Event, closed the bar at Mackeys then to the only place left to go. IHOP.
Thanks for all the Invites and Love.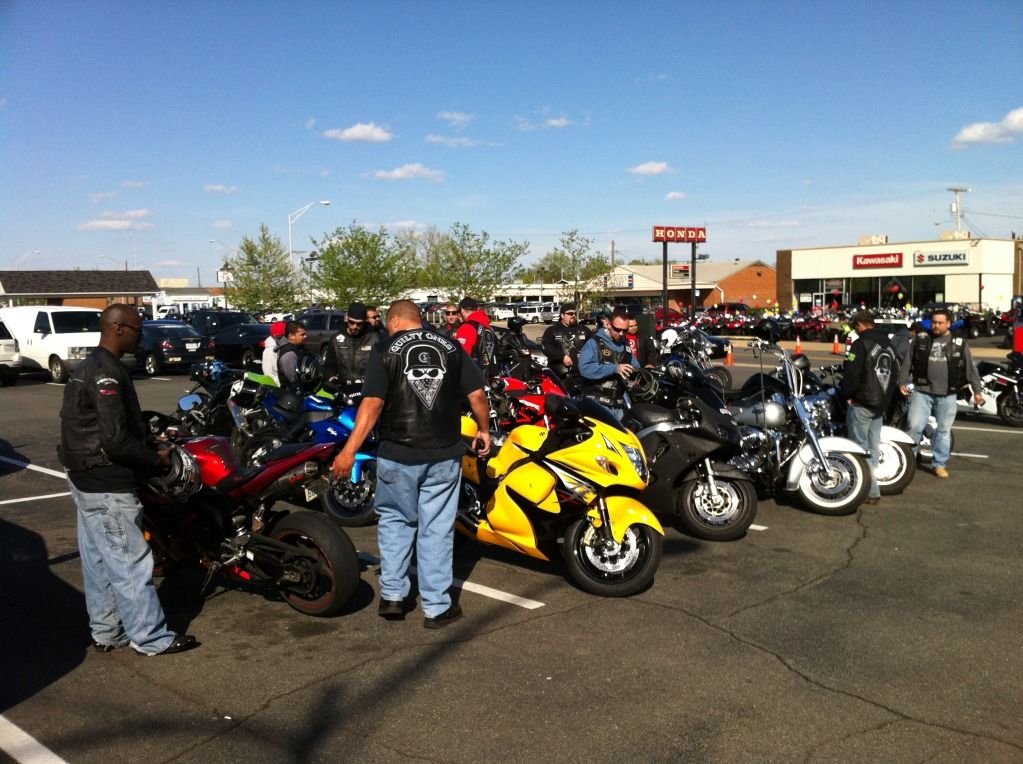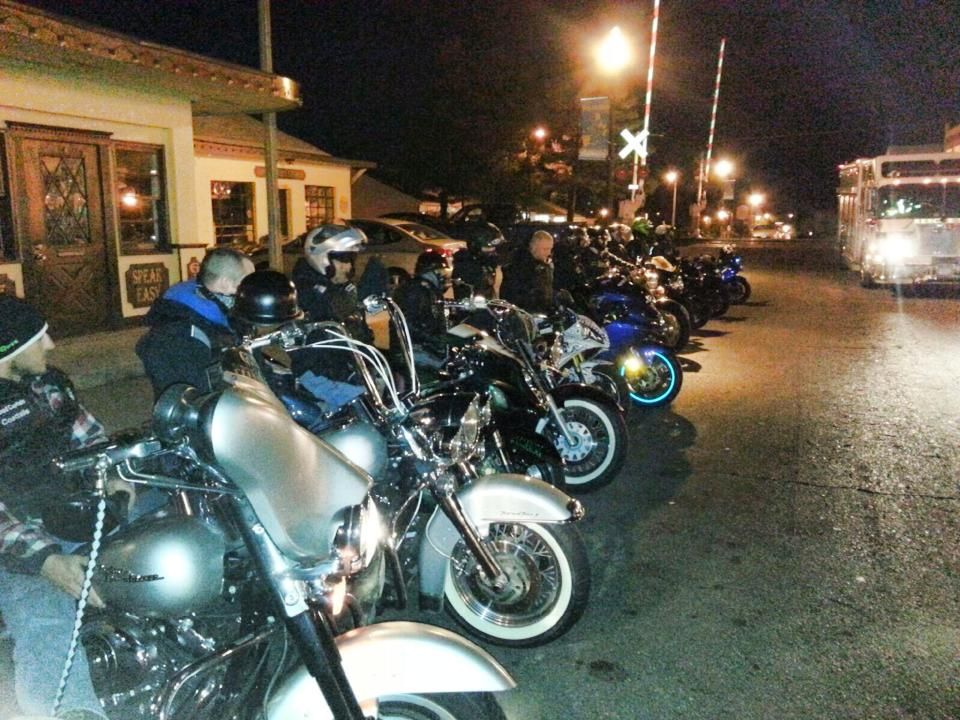 4/17/2013 : G1MC Shutting down Queaker Steak bike night in Fredericksburg VA.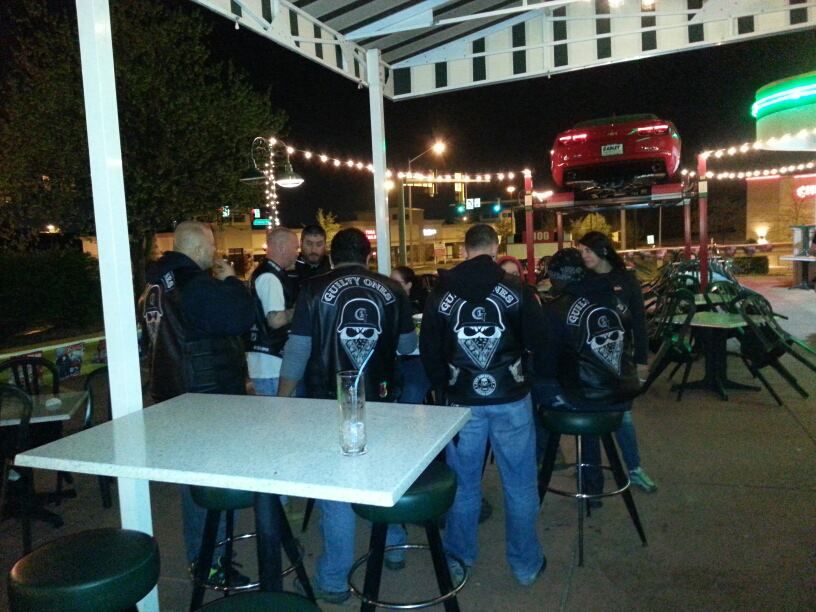 4/12/2013: Dutch's new Handlebars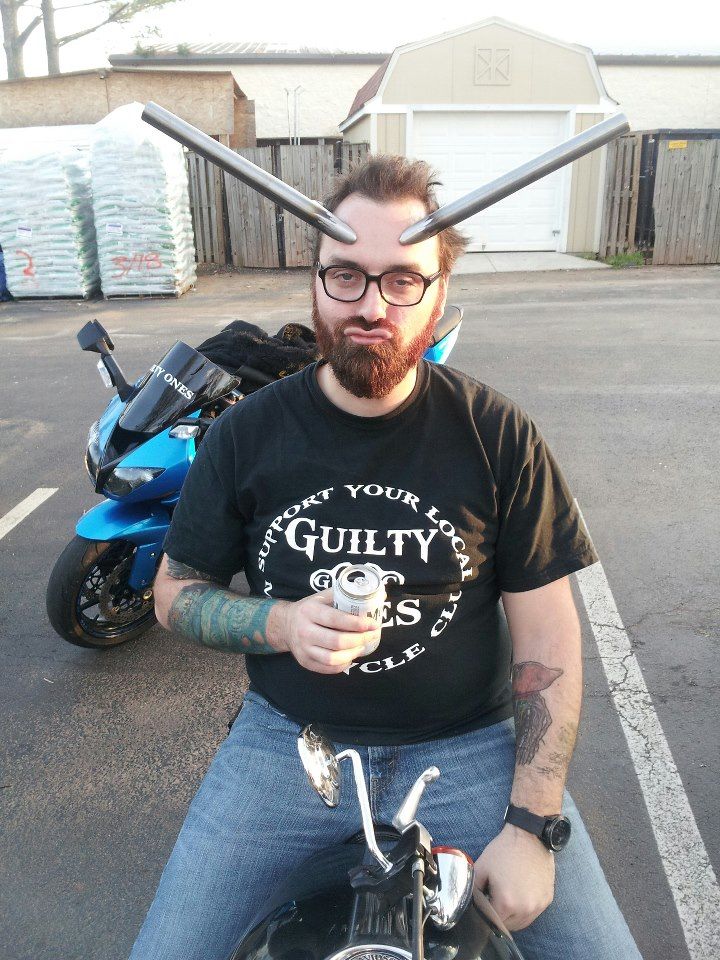 4/6/2013 : Very successful ride this Saturday Thanks to the ladies for cooking us some great food, our Road Captains and Assistant Road Captains for getting us there and back safely, our Brothers from richmond for joining us, and everyone who was able to attend. Also Congrats to our newest Member Str8 Jacket, congrats to Prospect Henry for receiving his top rocker, and Jimmy for starting his Prospecting. Brotherhood, Respect, Loyalty, & Commitment. G1MC!
3/21/2013:
3/19/2013 : Back from Daytona to shitty Va weather. Our Sgt At Arms Pitbull got hit by a car the first 3 hours into our ride in Daytona. Wish him a speedy recovery. Pictures coming soon.
3/12/2013 : Daytona here we come!
2/24/2013 :
---
---------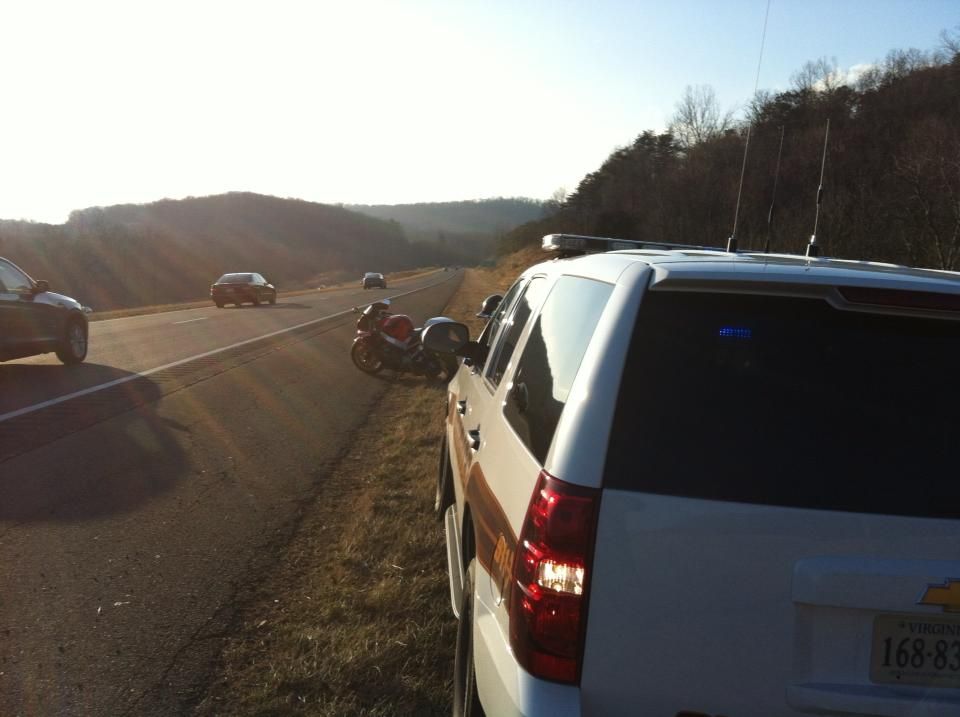 --------
2/20/2013: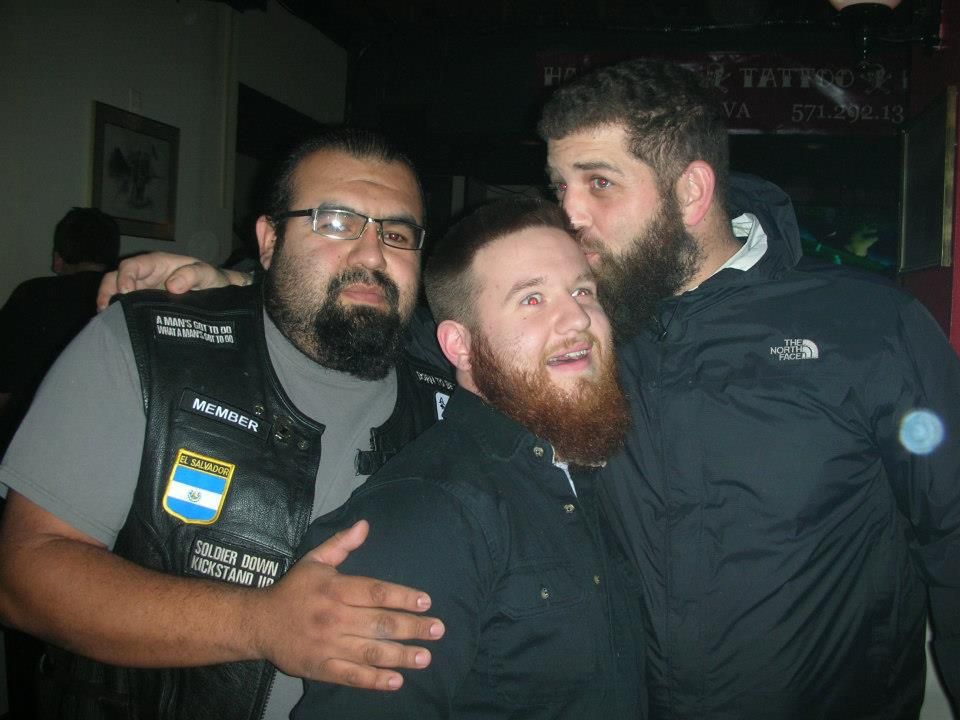 2/10/2013 : G1MC took a trip to Pevs Paintball today. Hell of a good time.
2/01/2013: After the Officer Yung Charity event at Hard Times Cafe, we had to stop in Mackeys.
1/13/2013: Great time at the Adrenaline RIders Comedy / Charity event tonight!